March Madness
Hey there, I've got a variety of things to share with you today! It's been a long dismal winter here in rural Pennsylvania and there are still a few days left. The groundhog will have the last laugh, no doubt.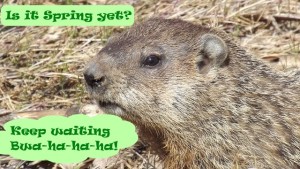 My Green Office
Sadly, my Green Office is still somewhat glaciated so I'm not ready to shoot any new videos just yet. I will pick back up again once the weather gets a bit warmer. Stay tuned and subscribe to my channel for updates on Green Office videos.
Paid to Pretend

In a twist of happenstance that may surprise you but will be of little surprise to those who know me best, I have signed with REACH Management to book work as an extra for TV, movies, commercials and so forth. I will be starting a channel for theatrics and notifying you of my appearances.
Permanent Payday

I am retooling and expanding my course on how to design, start and execute your own online business. If you'd like to learn how to take your own experiences, skills or hobbies into a lasting internet business, get your copy of the Permanent Payday guidebook and video presentation for free right now.
Nichyssoise
Chef Robert has been on a lengthy hiatus, but he's chomping at the bit to get back in the kitchen to provide you delicious and nutritious extended rights information products and hot tips on how to put some sizzle in your niche marketing.
So, that's the latest and greatest in a nutshell. Thanks for stopping in and checking up on me today. 2015 is going to be a year to remember!