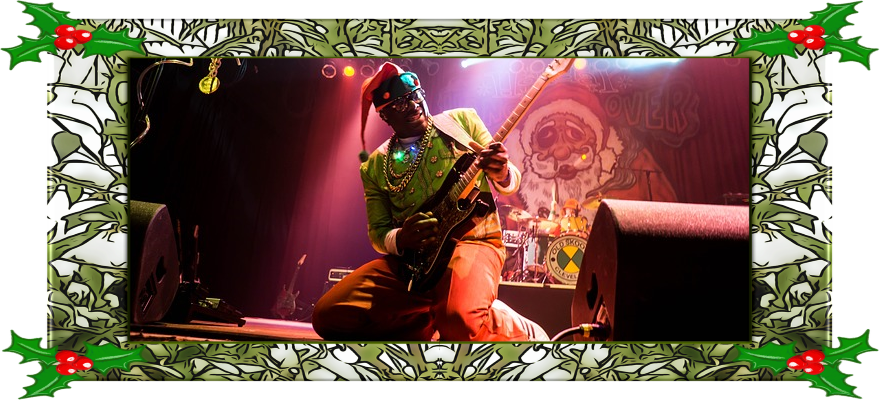 Play that holiday music!
Whoop-ya! The radio is playing Christmas music without apology. It's the most wonderful time of the year, friends! I just love channel surfing to see who's playing which of my holiday faves.
♫ Fa-la-la-la, la-la, la-la ♫
So, I've heard some people squawking about Christmas music but we're well into December already. A third of the way til Christmas, even. Don't blink! You'll miss the whole blessed season. I certainly feel as though I'm missing it entirely this year. Best laid plans and all that. Meh…
Some More Rules
Rule #56: Not yet cited in Star Trek episodes, movies or novels
This one struck me as suitably Ferengi:
Santa Claus has the right idea – visit people only once a year.
~Victor Borge
There's a big thing in information marketing where people feel the need to do product launches on an almost monthly basis. That's a whole lotta hustle and it's a whole lotta milking the cow. I guess people need to do what they need to do in order to stay afloat, but you look at some of these folks and really scratch your head.
I guess it's hard to find that balance, but I think the Santa model isn't that far from ideal. Certainly, it's a gamble putting all of your eggs in one basket (pardon the holiday nonsequitur) and doing one huge launch per year but I think it really diminishes your credibility if you're staging yourself as an expert in a new niche on a monthly or bi-weekly basis.
It might make more sense to do what musicians do. One album per year or two followed by a concert tour performing that album's songs along with the more popular numbers in your catalog. So, release your product (album) and then schedule a variety of webinars (concerts) that present the concepts (songs) from your most recent release along with the key points (fan favorite hits) of previous releases in a special way that justifies the webinar (concert). It's one thing to play your favorite band's latest album. It's another thing to go see them perform it in person at your nearest stadium or music hall. Even though the songs are the same, there's something about the experience of being there and having them perform it live. You need to figure out how to capture that vibe and apply it to a webinar or even to a live appearance if you happen to be friends with someone who is holding a live event like JVZoo's Marketing Mayhem. Actually selling live from the stage at an event can be very lucrative because you have that rare circumstance of meeting your prospects face to face and really connecting with them.
Another approach is one that Frank Kern brought up a couple of years ago. He spoke of a Choose Your Own Adventure style individualized marketing universe. In this way, if you already have a substantial catalog of products to offer you can create a gamified experience in which people are led through an interactive sequence of presentations that are programmatically designed to keep them engaged. I am still very excited by this concept and am working on laying this out for my business
Rule #57: Good customers are as rare as latinum. Treasure them
Back in 2008, Kevin Kelly posed the theory that if you can make a living doing what you do if you could get 1000 true fans. True fans are defined as the folks who will buy basically anything you make because it's you who made it. As long as they have the wherewithal, they'll buy the hat and the t-shirt and drive hundreds of miles to stand in the front row so you can see them wearing it. These are the good customers to which the rule is referring. The best way to treasure them is to keep doing what you do. The reason that they are your fans is because you have done what you do the way you do it.
I really like certain bands. I like them a lot and play their CDs when I'm in the mood for their specific vibe. I'm not a true fan, though. I'm not at every concert within driving distance. I own no band shirts or other paraphernalia. I don't know most of their names, much less their birthdays or personal preferences. That's not me. My daughter, however, has flown as far as Barcelona and LA to see her friends' bands perform. Therein lies the difference. I like a couple of songs by a band and they'll make it on my playlist when I've got somewhere to go. She is actually friends with these folks and will fly thousands of miles to show her support for their art.
If you have a thing. If you have some particular passion that you want to share with the world, you're going to have some fans like me who buy when it's convenient and you're going to have some fans like my daughter who are waiting impatiently for the buy button to go live. If you want to make a living doing what you do, you've got to sell to both of us but you've got to build a relationship with folks like her. When you get a customer like her, don't blow it.
Rule #58: There is no substitute for success
This is very true. Failure is just a misstep on the road to success. You can fail a hundred times, but it's really just practice. As long as you don't give up, you will eventually succeed and it will be well worth the journey. Honestly, if you don't have some hiccups on the way to your ultimate success, you tend not to give it as much value as if you really had to slog to make it happen. Success doesn't seem quite as successful if you haven't got some bumps and bruises to show and some stories to tell.
Rule #59: Free advice is seldom cheap
This sort of ties in with Rule #47. In information marketing, you're going to receive a lot of offers for free, no obligation strategy sessions with industry experts. This is a prospecting technique. You may technically receive really excellent free advice, but you're going to feel the need to reciprocate. This is part of the pitch. When they deliver insane amounts of value for free, you're going to be tempted to sign on for whatever coaching that they're pitching. That's totally fine. It's totally fair. If you have a strategy session and you find out you're mutually incompatible, that's valuable information. If you have a strategy session and you decide that you really want to pay this person's price to receive services, it's definitely not going to be cheap nor should it be.
Rule #60: Keep your lies consistent
LOL, the Ferengi are so shifty!  😆 From our perspective, what we should focus on is the consistency. When you're writing sales copy or autoresponder sequences, you should strive to maintain a consistent narrative. Picking a storyline and sticking to it will help you resonate with your target audience.
---
That's all for now. I'm gonna go schlafe in himmlischer Ruh. Peace, friends.