Just Say No~vember
NaNoWriMo

National Novel Writing Month is upon us. It is a 30 day challenge to get your very own novel done. Add to the corpus of human endeavor. Join the library of great stories written by talents both lofty and mundane.
If you have even the inkling of a notion of an idea for a book, this is the time to get pen to paper. Click through to the site for details on how to get your novel done in only 30 days.
No Fake Friends
Honestly, I'm a friendly guy. I really am.
That being said, let's set some basic ground rules for friending people on Facebook or other social media networks:
Do we have any friends in common? If not, I'm probably not gonna be your first. No offense. I'm kind of introverted and like to pick my friends for a reason.h
Have we ever conversed on a shared topic of interest? If not, I'm going to be very leery of your overtures of friendship. This is how spam gets on my wall.
Are we in a group together? At least being in a group should indicate a shared interest upon which our friendship can be founded. Even so, let's chat a bit and like each others' posts and then maybe one of us will send a friend request.
Pretty straightforward, no?  I don't really go for that. I've taken a chance with some people and had mixed results. So, let's go with a phrase my wife taught me:
    To have a friend, you've got to be a friend.
Keep that in mind before you send me a friend request.  'Nuff said
Billions
Rather a while back, I signed with REACH Management to get the occasional gig as an extra for TV, Movies and/or commercials. Well, the waiting has been loooooonnnnggggggg but well worth it. I've been booked for the Showtime TV series, Billions. I'll be in NYC three days next week for filming. More details to follow…
Rob's Viral WSO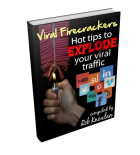 Well, I'm finally taking the plunge and launching my very own first-ever Warrior Special Offer. I'm offering a cheat sheet for $3 with an upsell of a guide for $8.

On the back end of it is an e-course on viral techniques and a variety of offers for tools that facilitate your marketing efforts.
It was my hope to get this cranked out today, but it looks like I'll have to roll it out tomorrow morning instead. No worries. It's best to get it done and posted, but let's don't be entirely slapdash!
So, tomorrow morning the Viral Cheatsheet will be seen on the Warrior Forum for a mere $3. Go check it out!
Be Good
To wrap up, let's just say ~NO~ to bad behaviors of all kinds. I find myself being more and more productive these days. I hope you'll catch a bit of my productivity virus and turn into a powerhouse in your own right.
There are certainly plenty of distractions about these days, but let's do what we can to minimize distractions and maximize our actions.
To help us on our way, I've got these observations and recommendations from Entrepreneur magazine:
Distractions are our brain's way of avoiding danger
Multitasking sparks our brain's reward circuits like sugar or drugs
Just 20 minutes per day of genuine focus can be tremendously rewarding, so…
Do creative work before tending to life's drudgery. Doing it first will allow your brain to come up with more robust solutions
Focus comes in small batches, primarily in the morning or late at night. Personally, I'm a late night guy although it technically runs into the morning so it's all good.
Strengthen your capacity to focus by isolating yourself from all distractions. Just like exercise, start small and work your way up.
Hope this helps. I know it does for me. I'm putting this to use right away and I hope you will, too.