Getting Somewhere With Keyword Research Train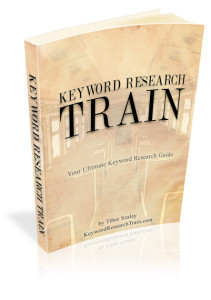 As a new Internet Marketer, I have an inbox full of offers on every subject under the sun.  A few catch my eye and I push through to the sales page.  A few of those catch my fancy and I scroll down far enough to see the price.  A few of those even get by the budget constraints department.
Keyword Research Train was not one of these.  This one jumped straight to the front of the line and steamed past the budget concerns.  It certainly helped that it was in its promotional phase and therefore at the warrior special discount, but I would have gladly paid full retail price on this particular product.
It takes a special approach to make keyword research seem even vaguely fun.  Tibor Szalay found that approach and turned it into a product that I couldn't wait to get my hands on.  Tibor's methodical technique is helpful to newbie and seasoned veteran alike.  Anybody can board this train and enjoy the ride.  Tibor's technique builds in successive steps, that if approached as a massive undertaking would seem nigh impossible as keyword research often seems to be.  Because he breaks it out into manageable chunks of cumulative, meaningful results, the seemingly monolithic chore becomes a journey of confidence building waypoints.  That he adds that spoonful of sugar to make the medicine go down in the form of envisioning the activity as a ride on a train is a reflection of the character of the author.  Tibor is a very nice guy with a clever angle on a topic that is challenging for most of us.
His play on words is not lost on the reader. Unless it's racing out of control, a train will almost always stay on its tracks and wind up exactly where it's supposed to.  Likewise, this technique is training you to do proper and thorough keyword research to arrive safely at your final destination with box cars full of high value, low competition keywords for your selected niche.  What's more, anyone can board this train.  Because it is a no-nonsense, step by step approach; it is of benefit to readers of any level of experience.
Affiliate Disclosure
I am not an affiliate of this product…yet.  Tibor is offering a very generous affiliate opportunity at this address: http://keywordresearchtrain.com/wso/jv/. I have a lot of catch-up work to do for the time being, but I believe I may just hop aboard before long.  C'mon, I was born two weeks late and I have been trying to catch up ever since.  Don't judge me.  At the time of this writing, I am promoting this product without material benefit because I believe it is a quality tool to strengthen your marketing skill set and I wish Tibor all the best with it. Note: I will update this post when he transfers the product to ClickBank and redefines the affiliate opportunity in the scope of that market.
Conclusion
Buy it.  Read it.  Read it again.  Let your favorite text to speech engine read it to you once or twice and then set your train hauling down the tracks.